The Hunch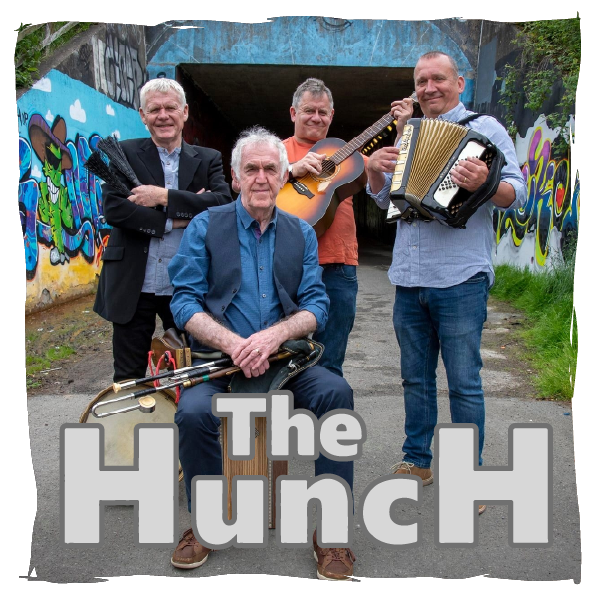 A quartet of exceptionally skilled performers, refined through extensive years of stage experience, bring their abundant talents to the forefront. Demonstrating a wealth of skill, they expertly display their inventive prowess and remarkable technical mastery in each musical composition. Notably crafted timeless tunes and introspective heartfelt ballads are illuminated by harmonies that intertwine seamlessly across all four voices, complemented by instrumental virtuosity. Their performances are marked by a clever, understated humor and bold wit. These accomplished musicians are slated to grace the stage at the upcoming Bromyard Folk Festival.
Mick Doonan was a founder member of the legendary 70s folk-rock band Hedgehog Pie and comes from the famous Tyneside dynasty. John Doonan Snr, was an All-Ireland flute champion.  Michael also fronts The Mighty Doonan's folk-rock band. In The Hunch he provides vocals as well as flutes and pipes.
Bob Thomas fronted another highly respected folk-rock outfit, Kitsyke Will, and has since lent his wonderful soul-inflected vocal style to The Solicitors, as well as singing, playing percussion and harmonica with The Hunch.
Alongside these two are the stunning acoustic guitarist/vocalist Chris Hanks and keyboards/accordionist/vocalist Tony Bacon, both alumni of West Yorkshire's thriving roots scene.
A collective ready wit & easy rapport with audiences of all sizes ensures that any gig involving The Hunch goes with a swing – tasteful, exciting, assured, soulful, enjoyable and lasting in the memory.