Kris Drever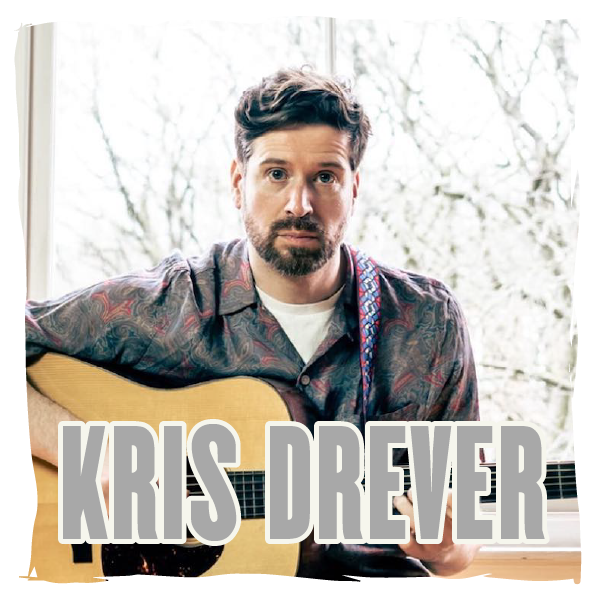 Kris Drever is an award-winning Scottish folk singer, guitarist, songwriter and producer.
Cherished and admired in equal measure by listeners and fellow musicians, award-winning guitarist, singer, songwriter and prolific collaborator Kris Drever has been a leading light on the UK roots scene for well over a decade.
A highly skilled guitarist who adroitly blends traditional folk and flat picking with more contemporary influences – allied to a distinctively relaxed and poised vocal burr – Drever is an astonishingly fine interpreter of others' songs, with an increasingly frequent knack for concocting seriously smart lyrical observations and earworm melodies of his own.
Drever has played and recorded with an extensive range of artists including Mark Knopfler, Jack Bruce, Danny Thompson, Eddi Reader, Bela Fleck, Tim O'Brien, Jerry Douglas, Sarah Jarosz, Joan As Police Woman, Tinariwen, Karine Polwart and Julie Fowlis.
Having grown up in Orkney, after leaving school and moving to Edinburgh he discovered the city's thriving session scene in the early 2000s. After touring with numerous traditional acts his own profile flourished as part of revered folk experimental trio LAU and following the release of his much-loved debut solo LP Black Water in 2006.
An album in collaboration with Idlewild frontman Roddy Woomble and fiddler John McCusker, Before the Ruin, and a second solo album, Mark the Hard Earth, came soon after along with a steady stream of collaborative releases including last year's visionary, nature-focused Spell Songs project.
LAU have released a succession of acclaimed and adventurous records with esteemed producers including Race the Loser with Tucker Martine (The Decemberists) and Midnight and Closedown with John Parish (PJ Harvey). All of his LAU and solo work has been released on Tom Rose's Reveal Records label. 
The title track to Drever's self-written third album If Wishes Were Horses, released in 2016, landed him a BBC Radio 2 Folk Award. The percussive talents of Admiral Fallow frontman Louis Abbott, consummate double bassist Euan Burton and the endless ingenuity of Denmark-based guitarist Ian Carr provided the backdrop for a crisp-sounding indie folk record he had been building towards for several years.
That trio of musicians are again the nucleus for follow-up Where the World is Thin, due for release in October 2020. The musical arrangements remain simpatico to the songs, while the addition of John Lowrie on keys, Rachel Lightbody on harmonies and outstanding Nashville-based fiddler Christian Sedelmeyer help ensure the 41-year-old's sound continues to evolve.   
Eight of the nine songs are Drever originals, albeit one (Strike the Colours) was written by his talented younger brother Duncan, while he also tackles Robert Burns (Westlin Winds).
The title track finds him residing in a sweet spot somewhere betwixt Scottish folk and twinkling indie-pop, while there is a semi-anthemic defiance in More Than You Know's reassuring refrain. 
Where many of the songs on …Horses fixed their lyrical gaze on personal matters, here the source material ranges from the scuttling of the German fleet off Orkney at the end of the First World War (the meticulously researched Scapa Flow 1919) to the Twitter feeds of friendly comedians (Hunker Down/That Old Blitz Spirit).
After a few years spent living in Shetland, in 2019 Drever relocated to Glasgow with wife Louise and their two young children – in part to make it easier to fulfil his touring commitments. Now Covid-19 means no one in his industry –reliant on live gigs for income more now than ever before – knows when they might tour again.
"We don't even know if we're going to get to go back to work in the way that we have done for hundreds of years. Nobody knows when they're next going to be able to do a gig, so everyone is scrambling for some high ground where they can see what's happening.
"'People need art' is something that's been said lots and the cynical part of me goes 'yeah, not as much as food though'. But it is true, otherwise it's just existing. There's existing and then there's living, and living contains a lot of art."
Resisting the urge to despair at the degeneration of UK politics into selfishness and bigotry, Drever sees embracing human kindness as an almost subversive act.
"We're in a crazy situation now where one of the most rebellious things you can do is be decent to people! The individuals at the top of our tree are so horrible that being kind to others, or even to yourself, is kind of like two fingers to them."
The folk revival has a new standard bearer…

Q Magazine
20:00 Cerys Hafana

21:15 Kris Drever