Crows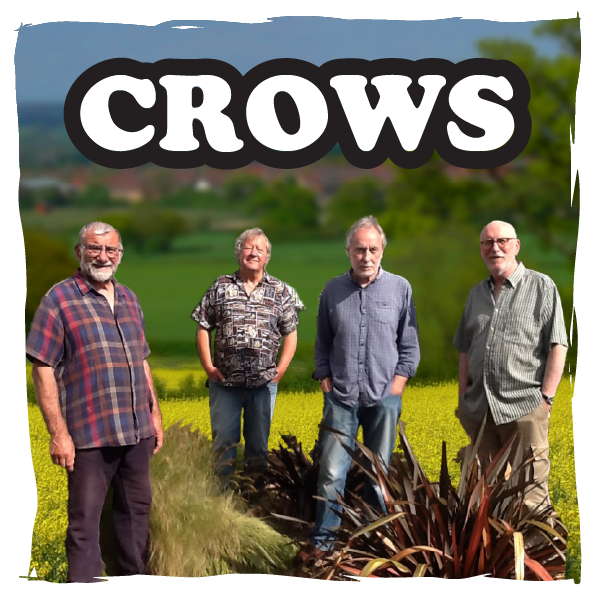 Crows are a folk band performing a mix of original and traditional music, with imaginative instrumental arrangements and powerful 4-part harmonies.
Pete Harris, Dave Bordewey, Mick Ryan and Paul Downs make a very welcome return to the festival.
Crows were formed in 1977. The formation arose from a meeting at the Anchor Folk Club in Benfleet. There were flyers advertising a concert featuring the folk supergroup Bandoggs. The guests at the club that night were a young duo from Swindon, Mick Ryan and John Burge. In the audience were up and coming London based duo Silas (James Patterson and Ralph Jordan) seeking a gig. 'We could be a supergroup' one of the four suggested, 'and be called Crows', said Mick….and so we were. Rehearsals in London and Harrogate which, for some reason, was the chosen home of Mick and John preceded a first public appearance supporting Kitsyke Will in Pately Bridge during the world cup of 1978 (Scotland losing again despite Ally's Tartan Army!). CROWS were a popular feature of the folk scene from then until 1987. During that time, they made two LPs, CROWS in 1981 and NO BONES OR GREASE in 1986. The band had a number of personnel changes during that time. John Burge left to join Kitsyke Will in 1981. His place was taken by multi instrumentalist Dave Bordewey. Ralph Jordan left to join Nigel Chippindale and Colin Thompson in Eric in 1983, though he continued to work with James Patterson as Silas until 1987. Ralph was replaced by Jim Younger. The band was joined by keyboard and violin player Steve Faux in the run up to the second album. In the spring of 1986 James retired to spend more time with his family and was replaced by Nick Passmore. Crows finally stopped working after Mick left a year or so later. James, Mick and Dave reformed with the help of James's current partner John Dipper, to perform a couple of songs at the Sidmouth memorial concert for Ralph in 2014 and the notion of a CD of unreleased Crows recordings was raised by Dave. A new album is the result of that conversation. There are some tracks from CROWS, a couple from NO BONES, but most were recorded for 2 Counties Radio in Bournemouth in 1982/3 and recordings made at BBC Radio Oxford. These are live performances and reflect well the richness and variety that Crows presented at the time.
19:15 Maddie Morris

20:25 Crows

21:35 She Shanties

22:45 The Young'Uns