The event is organised by Bromyard Folk Festival Limited, a registered charity whose aim is to promote traditional folk activities through the annual festival.
FESTIVAL WEEKEND OPENING TIMES
Festival Gates Open 9th September:
Thursday 4pm
Box Office Thursday Opening Times: 12pm – 10pm
Friday
Gates: 8:30am
Box Office: 9am – 10pm
Saturday
Gates: 8:30am
Box Office: 9am – 10pm
Sunday
Gates: 9am
Box Office: 10am – 7pm
The campsite will open at 4.00pm on the Thursday.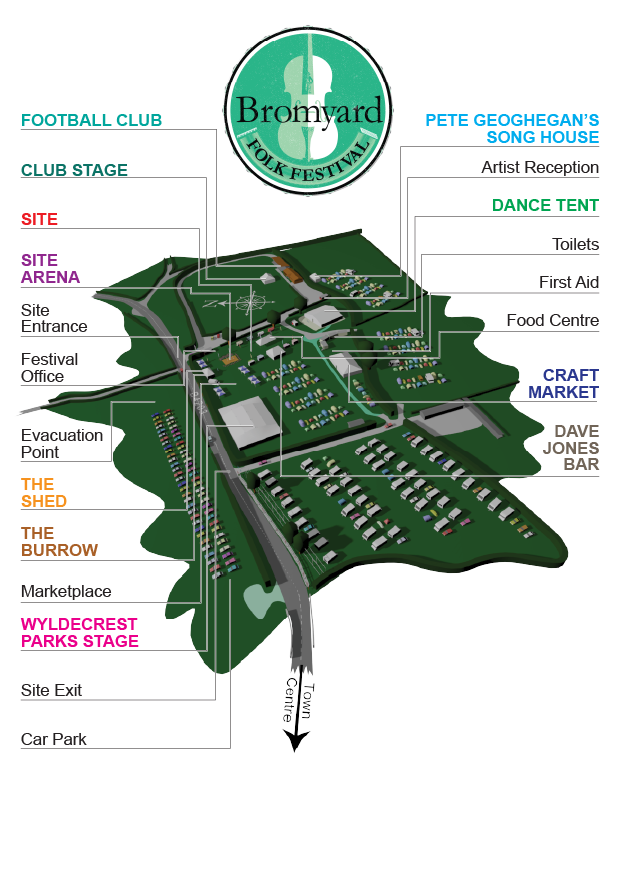 Tickets
BRING YOUR RECEIPT TO THE FESTIVAL OFFICE TO COLLECT YOUR WRISTBANDS! Weekend tickets are on sale in January. Please bring proof of any concessionary tickets i.e. a valid NUS card). Children 10 years and under are FREE. Day and evening tickets are available and can be reserved in advance. Full details of the ticket pricing structure are shown on the Tickets page on this site.
Camp Sites
Directions to the site. Tents, camper vans and caravans spaces are provided for camping pass holders only – there are no camping facilities for visitors who are not Weekend Ticket holders. The camp sites are within the festival site and adjacent to the Marquee venues and close to the town, so once you have parked your car it can be left on the site for the weekend.
PLEASE NOTE: The camp site opens on the Thursday at 4.00pm. There are showers and toilets on site.
The camp site is available for Weekend Ticket Holders only up to 10am on the Monday.
Car Park
There is a large car park with plenty of space available for the whole weekend. Although we do patrol the car park throughout the festival for security reasons, owners do park at their own risks.
Dogs
Dogs are allowed on the site but NOT in any of the venues.
Charity
All of this folk festival's income is used in the furtherance of our sole charitable aim of running this festival to promote folk song, dance and music
Stewards
Bromyard Folk Festival relies upon the generosity of volunteers who kindly man the doors, gates and maintain the site in exchange for their entrance fee. If you would like to support the festival by volunteering please contact us.
Sponsors
Sponsorship of the fesitval is available now – packages are very economical for exposure to our thousands of festival goers. We welcome any businesses / individuals who can support us either financially or via their services. Please contact us.
Festival Site
On site there are all facilities available as illustrated above including good toilets, water points, level grassy field, hot showers, bookable camping / parking / caravan locations for anyone requiring better accessibility, and also we have electric wheelchair re-charging.
Venues
Most of the main concerts, ceilidhs and workshops are held in marquees at the Broadbridge site. Please be aware that space in venues for key events may be limited. We also use The Falcon Hotel and Bromyard Town Football Club. Click HERE for directions.
Programme
The festival starts on Thursday at 8.00 pm with a concert and a 'folk club' on site. On Friday evening there is a concert, grand ceilidh/A Chance To Meet… and a 'folk club' on site. There won't be a Morris procession through the town this year. The evening concludes with a late night song session. Saturday morning is taken up with various workshops, singarounds, meet-the-artist sessions, concerts and dance displays. In the evening you will be able to choose from two concerts, a ceilidh/A Chance to Meet…, a musical variety concert, plus a late night club session – all on site. Workshops for dedicated dancers will be held all day. Sadly this year there will not be a 'Day' of Dance being held in the Falcon Ballroom. Sunday Morning has a similar pattern to Saturday plus the popular Folk Services in local churches. Sunday afternoon features a song concert and a grand ceilidh/A Chance to Meet… . A variety of children's events are held during the day on Saturday and Sunday. There will be Morris and other dance displays throughout the weekend – in the town and on site.
The festival concludes with the popular Sunday Evening Concert on the Wyldecrest Parks Stage and most facilities will remain available – including camping – on Sunday night. All facilities will close at 10am on Monday morning.
NB: Do remember this is a 'green field' festival in a beautiful rural location. Facilities are necessarily fairly basic although we make them as effective as possible. Dress accordingly and remember, nothing we can do can alter the vagaries of the British weather.
Food
There is a large range of food franchises on site which cater for almost all tastes, and in the town centre there are cafes, restaurants and shops.
Craft Market & Marketplace
Exhibitors are high quality craftsmen who produce most of the goods they display. Traditional craftsmen are always welcome to apply for display and sales space. Call 07990 629 203 or email the festival organiser.